Hardwood flooring is the trend nowadays for 2 main reasons, it looks great and it is easy to maintain. However, many people still prefer carpet flooring for their homes. While both the floorings have entirely different attributes, you may prefer one over the other based on the requirement of different parts of your house. 
Making an informed choice is very important when you feel that you are ready to invest in new flooring for your house. A flooring renovation can completely change the ambiance of your house instantly. Therefore, choosing the right flooring material is a crucial decision that you must make. 
If you visit Flooring Domain Directory, you can easily find a list of sellers of all types of flooring materials and installers as well. Once you have decided on material selection, you can use this platform to find a supplier locally.
Let us look at the 2 above-mentioned flooring materials in detail. 
Carpet Flooring – Pros and Cons
Synthetic fibers are threaded closely on large sheets. There can be wool or cotton carpets as well. The pros of carpet flooring are:
The cost is almost half when compared to hardwood flooring. 

Provides a feeling of warmth and softness when walked over. 

There is minimal noise production. 

They are very easy to install if you have hired a professional and the cost of installation is also comparatively very low. 

They look beautiful and cozy in bedrooms and other recreational spaces of your home. 
However, there are many cons to using carpet flooring. They are:
Carpets can easily trap dust and pollen. Therefore, it is not the right choice if someone in your family has allergies. 

Although you can vacuum a carpet regularly and get it deep cleaned every month, some stains will never go away. 

They cannot be used in areas exposed to high moisture content such as bathrooms. 

Carpets can also easily catch fire and get damaged. 

The life of carpet flooring is approximately 10 years.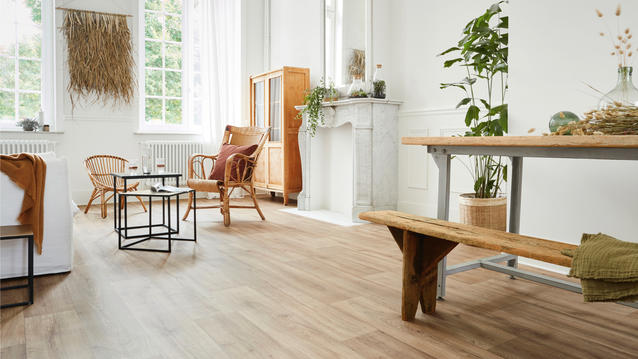 Hardwood Flooring – Pros and Cons
If you decide to buy hardwood flooring from any of the sellers listed on the Flooring Domain Directory, you must know some of the benefits that this flooring will bring to your home. 
The pros of hardwood flooring are: 
Although expensive, it can last through your entire lifetime and it increases the resale value of your home. 

This flooring is very easy to clean with mopping and sweeping. 

It is easier to refinish solid wood flooring. 
Cons of hardwood as a flooring material are:
Both intense heat and excessive moisture can damage the flooring. 

It can produce loud sounds when people move on these solid wood floors. 

Even the installation process is expensive and needs professional hands. 

People with allergies do have to worry because hardwood does not trap dust particles. 
You can also look for engineered wood flooring sellers at the Flooring Domain directory which provides a middle road in terms of costing and other features like improved heat and water resistance. Hardwood provides a luxurious look to a house while carpet flooring gives it a more homely feeling. So, choose the flooring material based on your requirement and budgetary restrictions.